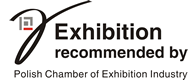 PATRONGE 2016 EDITION



Leaders are with us! Join the best!

30.12.2016
On the occasion of the forthcoming New Year we would like to thank all our Exhibitors and Visitors, Partners and Friends for their cooperation and to wish them good health,happiness and every success.
22.12.2016
We wish you a peaceful and warm Christmas. Let this Christmas be for you an opportunity to relax, rest and spend time with your loved ones.
16.12.2016
We kindly invite you to visit Poznań International Fair! Here you will find business contacts, novelties and the chance to develop your passions. In the latest issue of Poznan Fair Magazine "Exhibition calendar 2017" we present trade fair events, organized by the International Fair for almost all industries.
More news
---

The largest security fair! Securex 360º
- a holistic perspective of security! A comprehensive offer of the sector will be presented in Poznań on April 25-28.
"Diagnosing the feeling of security is nearly always a key point of life quality monitoring and assessment programs. It is crucial in the subjective dimension but it also really influences upon the way we act in our family life, work, and social life," says Tomasz Kobierski,  Vice President of Poznań International Fair. "The life and health of our closest ones, co-workers, business partners including sub-contractors, and service providers are the highest values. Technical, technological and information solutions of today make it possible for us to protect  and care for our belongings, company assets and public property. Poznań International Fair prepared an event for you which is an impressive technology center benefiting the quality of our lives in many different fields," adds the vice president.
This year, an exposition of the market's best offer will be presented to the visitors of the 21st SECUREX International Security Exhibition. In the same place and at the same time, the pavilions of Poznań International Fair will see market premieres, hundreds of novelties from around the world as well as special zones accompanied by the hustle and bustle of the intense and thematic business life. Seminars, conferences and debates, which are definitely worth to take part in, will be taking place simultaneously.
Don't ask WHETHER you'll be attacked…  ask WHEN!
Cybercrime is causing more and more damage and hazard which are disastrous, and the innovativeness and creativity of hackers seems to have no end. Do you know you will be attacked? What matters is your proactivity and readiness to ward off an attack. Staying alert and having a strategic attitude to safety are the key. Being unaware and careless, on the other hand, may prove very costly. As the research of CheckPoint Software Technologies shows, an average waste resulting from a single attack in Poland is estimated to equal PLN 4450 thousand. Can you afford that? Do you think this does not affect you? Take part in the conference of Securex BE-In and find out for yourself whether you are not the one luring a thief with the back door to your information vault left open...
The hyper-up-to-date and prospective conference titled Securex BeIN – Information Security will take place during Securex on April 27.
Hands up!
This is going to be a big event indeed! An unusual show titled 'That's a robbery' which will aim at presenting the practicality of physical protection and technical facility security is going to take place at Securex.  Dramatic scenes will take place at a specially-arranged robbery-prone bank facility.  All that will be presented live thus guaranteeing emotions at their peak, nerves, and high levels of stress.  There will be a possibility to observe a simulation of a bank robbery and how the security employees react at a pre-arranged bank facility on the fairgrounds.  Simultaneously, reactions of an alarm center and an incident intervention group will be displayed at large-format screens.  The show will feature modern technical devices offered by the fair exhibitors.  The event which will be prepared in cooperation with the Polish Security Chamber is an unusual case study available only at Securex.
Safely installed
The grand finale of the 5th Championship of Alarm System Installers has been prepared together with the Polish Chamber of Alarm Systems (PISA). This is when the finalists, in front of the audience and the cameras, working under the pressure of time and the ambition of winning, who have been through tough time during the qualifiers, will prove they do have practical skills and abilities apart from theoretical knowledge at the highest level. The exhibition organizer and the members of PISA are investing in the development of would-be engineers of security systems and therefore, on the last day of the fair, they decided to hold a special educational program titled "PIF and PISA for future professionals" where they invited students of vocational schools and technical high schools. A debate titled "Truths and myths of security systems integration," which will be held on April 25, will be an important part of the agenda. The specialists who will run the debate are going to discuss the truths regarding the technical and organizational specifics of security systems integration implications.
Moreover, the agenda will include the "3S Service, Safety and Security" conference, DronZone which means a higher-level security, the "I am smart - a Smart Building" program, and Poznań Media Expo workshops for investors. 
Poznań International Fair would like to invite you for the most secure exhibition to the capital of Greater Poland!